基于Python的开源可视化工具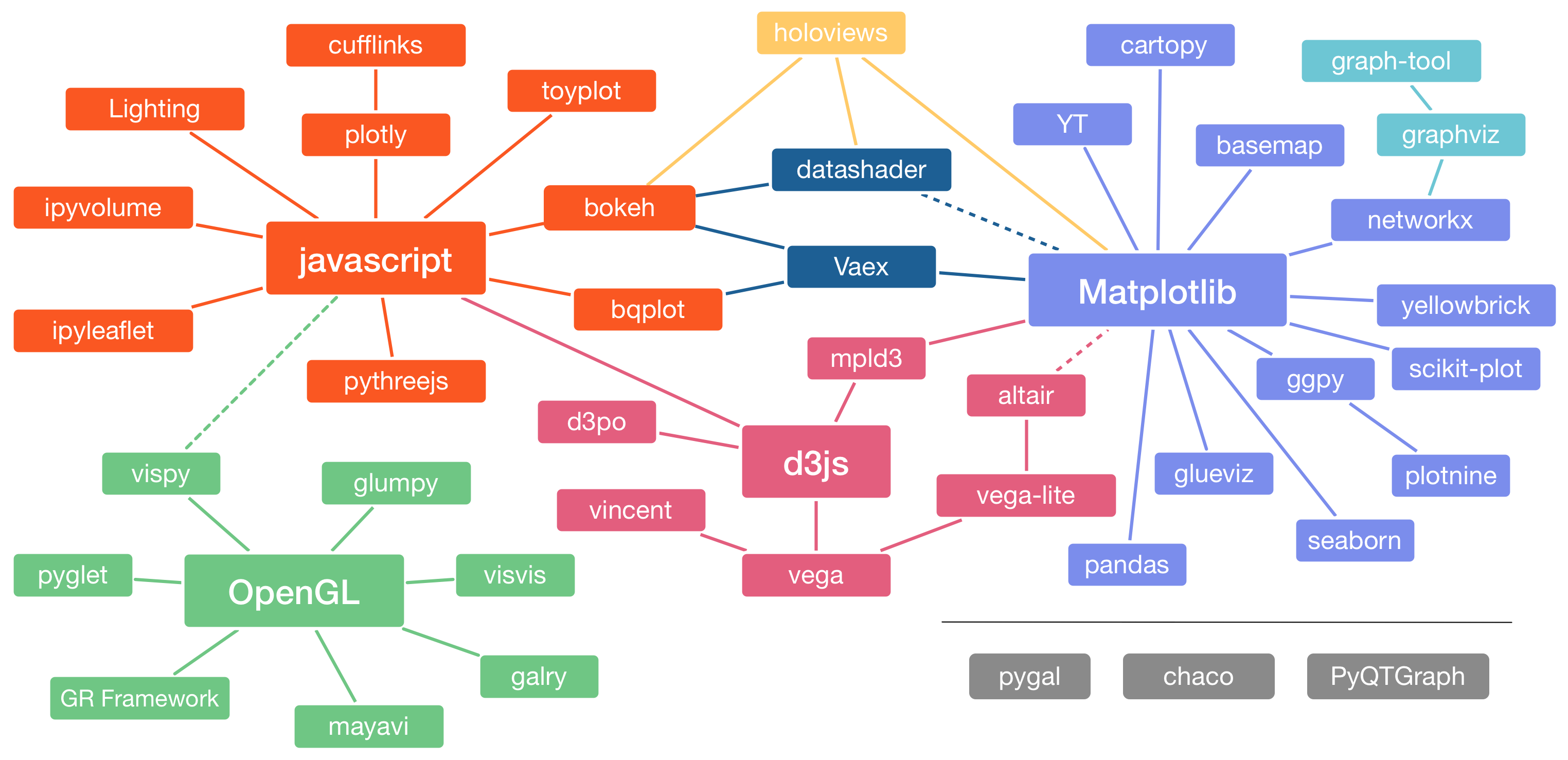 信息可视化和科学可视化
信息可视化(InfoVis) visualizes arbitrary and potentially abstract types of information, typically in 2D or 2D+time plots with axes and numerical scales.

科学可视化(SciVis) focus on visualizing physically situated gridded data in 3D and 3D+time, often without spatial axes and instead providing an immersive visual experience of real-world physical datasets (see Weiskopf et al for a comparison).

Desktop-GUI targeted SciVis tools build on the OpenGL graphics standard, while browser-based web applications usually leverage the related WebGL graphics standard.
基于Matplotlib的信息可视化工具
Strengths:

Designed like MatLab: switching was easy
Many rendering backends
Can reproduce just about any plot with a bit of effort
Well-tested, standard tool for over a decade

Weaknesses:

API is imperative & often overly verbose
Sometimes poor stylistic defaults
Poor support for web/interactive graphs
Often slow for large & complicated data
基于Javascript信息可视化工具-Bokeh
Strengths:

Web view/interactivity
Imperative and Declarative layer
Handles large and/or streaming datasets
Geographical visualization
Fully open source

Weaknesses:

No vector output
Newer tool with a smaller user-base than matplotlib
基于Javascript信息可视化工具-Plotly
Strengths:

Web view/interactivity
Multi-language support
3D plotting capability
Animation capability
Geographical visualization

Weaknesses:

Some features require a paid plan
Bokeh vs. Plotly
Use in Jupyter / iPython / scripts

both frameworks do a good job for this use case.

Use as a dashboard

both frameworks are based on a producer-consumer architecture communicating over JSON
Bokeh tends to have more layers of abstraction than Plotly
both frameworks integrate with an existing Python-based web server
科学可视化工具
Communities